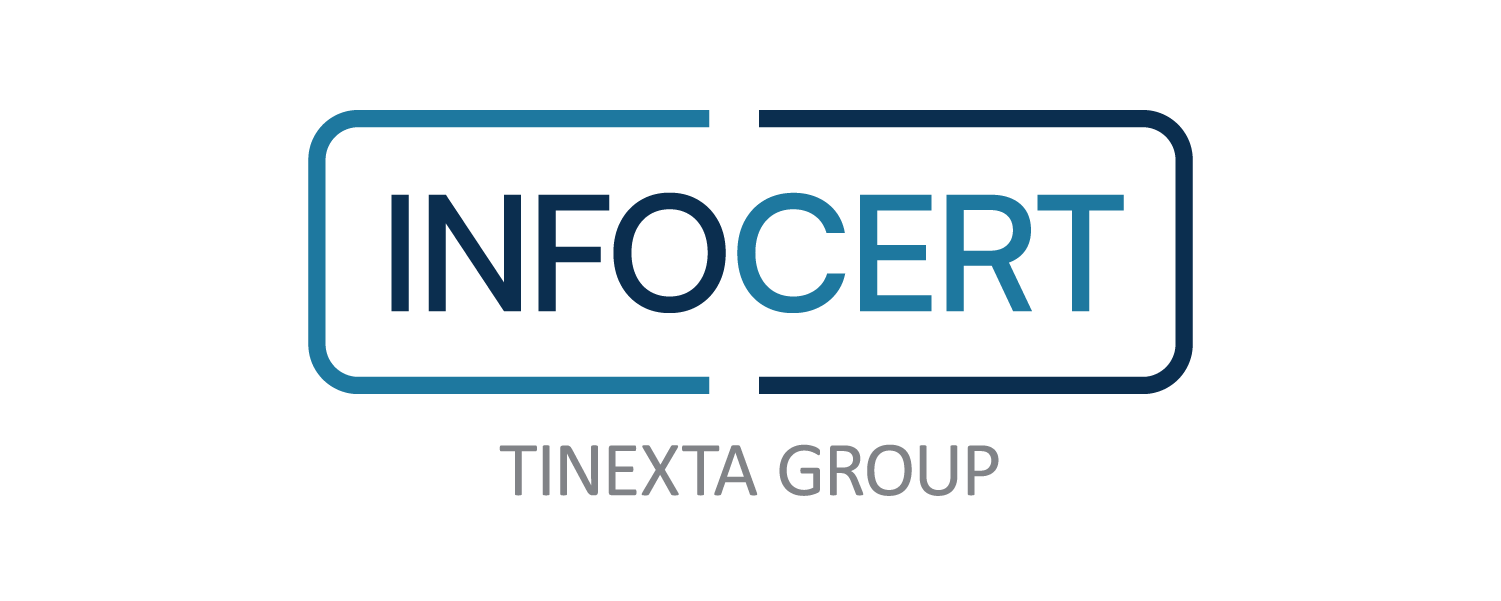 Infocert, the largest Certificate Authority in Europe and a leading provider of trust based business solutions for organizations and businesses to interact online with customers and citizens, in full compliance with EU laws and at the highest level trust.
InfoCert's trust based solutions are developed for increased security requirements, a high level of governance and cost efficiency. Key workflow components as approval, review and transactions can be executed fully online by InfoCert's document workflow components, digital preservation, digital signature and registered e-mailing services. Our proposition enables every organization to digitize its business processes with simple, efficient, state-of-the-art solutions, which fully meet organizational needs, general regulatory constraints and specific sector rules.
InfoCert, with offices in Italy and the United Kingdom, is a qualified partner for companies operating in verticals as Banking, Telco and Utilities.
InfoCert's commitment to innovation is remarked by our collaboration with major European universities and research centers as well as by our active participation to several EU funded Horizon 2020 innovation projects.
InfoCert has an excellent track record regarding R&D producing cutting-edge solutions. One of the most successful innovations in the banking sector is onboarding a new customer by remote identification, called Trusted On-boarding Platform – TOP. A platform that allows new customers to be on-boarded online in less than ten minutes, using InfoCert's patented solution for the issuance of digital certificates. Once enrolled, a customer can sign any contract in a customer experience, which is easy, across any device and fully online. TOP solution has been patented and approved by competent Regulatory Authorities in Europe.
In 2018, InfoCert acquired 51% of Camerfirma, one of the main Spanish certification authorities, and 50% of LuxTrust, a leading company in Digital Trust in Luxembourg.
Lastly, InfoCert is a shareholder in 80% of Sixtema, the technological partner of the CNA world, and 100% of Eco-Mind App Factory, a company specialized in digital workplace solutions.
With a share capital of € 17,704,890, InfoCert SpA is a 99.9% owned company of Tinexta Group SPA.
Our ISO 9001, ISO 27001 and ISO 20000 certifications demonstrate commitment to the highest levels of service, compliance and safety.
Key metrics:
401 employees with Euro 56,9 million revenues in 2017
Serving customer in more than 14 countries
Euro 18 million in equity capital
100 million of digital signature transactions in 2017
800 million legally preserved documents
1 milion e-delivery messages managed per day
Learn more